What is a Fiber Patch Panel?
A fiber patch panel is a termination device that is used to connect and manage fiber optic cables in a network infrastructure. It provides ports to connect incoming and outgoing fiber optic cables from network equipment and devices. Fiber patch panels allow the fiber optic cables to be interconnected in an organized and structured way.
The ports on the fiber patch panel enable easy plugging and unplugging of fiber optic cables without requiring any special tools. This provides simplified connectivity, disconnection, and rearrangement of fiber links as needed. Fiber patch panels consolidate and route the fiber cables toward their destinations in the network via the patch panel ports. This prevents exposed and disorderly cable runs.
Fiber patch panels are mounted on equipment racks or cabinets and can also be wall-mounted. They are a key component in fiber optic networks and cabling infrastructure. Fiber patch panels enable efficient administration and management of the fiber optic cabling system. They allow network administrators and technicians to quickly modify fiber connections and perform moves, adds, and changes on the fiber network.
Types of Fiber Patch Panel
There are three primary types of fiber patch panels:
1. Rack-mount fiber patch panel
These fiber patch panels are designed for mounting on standard 19-inch wide equipment racks or cabinets. 19-inch racks allow vertical stacking of multiple devices and panels in a compact organized manner.
Rack-mount fiber patch panels are available in different sizes such as 1U, 2U, 3U, and up to 5U, depending on the number of ports they provide.
For instance, a 1U panel houses more ports than a 5U panel per rack unit space. Dense port counts of up to 96 ports on a 1U panel are available.
Rack-mount patch panels provide front access to the fiber ports via adapters like LC, SC, ST, and FC. The adapters connect incoming and outgoing fiber optic cables. Rack-mount patch panels facilitate easy administration of fiber links on equipment racks and are widely used in data centers and network rooms.
2. Wall-mount fiber patch panel
As the name suggests, these fiber patch panels are designed for installation on walls instead of equipment racks. Wall-mount patch panels have integrated mounting brackets and occupy minimal space, making them suitable when rack space is scarce.
They allow fiber port accessibility through the front panel and provide fiber connectivity options similar to rack-mount patch panels.
Wall-mount fiber patch panels are commonly used in smaller network deployments and wiring closets. The wall-mount form factor provides flexibility for positioning the fiber patch panel at convenient locations.
3. MPO/MTP fiber patch panel
This type of fiber patch panel is equipped with multiple-fiber push-on (MPO) connectors or mechanical transfer push-on (MTP) connectors.
These special connectors can simultaneously terminate up to 24 fibers in a single connector. MPO/MTP patch panels allow high-density fiber connectivity and are suitable for managing a large number of fibers.
MPO/MTP patch panels support parallel optics connectivity, which is used in high-speed data center networks with infrastructure applications like 100G, 400G Ethernet, and beyond.
The parallel optical architecture provides advantages like higher bandwidth, better port density, and cable management.
Benefits of Fiber Patch Panel
Fiber patch panels offer the following advantages for fiber optic network infrastructure:
Easy installation and maintenance: Fiber patch panels allow quick, simple, and tool-less insertion or removal of optical fiber cables, without requiring any splicing. Adding, moving, or changing fiber patch cord connections can be done swiftly. This significantly simplifies installations, upgrades, troubleshooting, and daily maintenance of the fiber network.
Improved cable management: The organized ports interface and cable anchoring provide a neat consolidation point for fiber patch cord connections. This prevents loose and random fiber cable runs. Built-in cable management rings, brackets, and channels improve cable routing and strain relief. The structured cabling enhances aesthetics while making access easier.
Enhanced network performance and reliability: Fiber patch panels maintain cable polarity critical for optimal light transmission. This ensures maximum network performance and reliability. The fiber optic cables have very high bandwidth, enabling high-speed data transfers. Fiber offers extremely low loss and latency with reduced electromagnetic interference.
Flexible network changes: The modular ports allow technicians to conveniently add, remove, or modify fiber links. This facilitates changes like network upgrades, expansions, and layout optimization. Port identification and labeling aid traceability.
Space efficiency: Multiple cables can be neatly routed via the patch panel, saving space in wiring closets and data centers. Wall-mount panels maximize space utilization further.
Factors to Consider When Choosing Fiber Patch Panel
Key considerations when selecting a fiber patch panel include:
Number of ports: The port density i.e. number of ports, should suit current requirements and likely future expansion needs. High port counts allow room for network growth and minimize incremental upgrades. Ports can be SC, LC, ST, FC, MTP/MPO, etc.
Connector type: Pick fiber patch panels accepting compatible connectors for the installed fiber optic cable and network equipment. Common connector types are LC, SC, MPO, ST, and FC.
Compatibility with network equipment: Ensure the patch panel offers seamless adapter connectivity and interfacing to the switches, routers, and optical transport devices of the fiber network.
Cable management: Opt for patch panels with robust cable management features to securely route and organize multiple fiber optic cables. Check strain relief, routing guides, and radius limiters.
Density: Higher port density allows more ports per rack unit space. Useful for constrained environments.
Ease of access: Front-accessible ports simplify installations and maintenance. Angled panels improve access in deep racks.
Cos: Balance required features against budget. Higher port counts typically increase the cost.
Standards compliance: Verify patch panel complies with TIA standards for structured cabling systems.
Selecting the right fiber patch panel is vital for a scalable and high-performing fiber optic network infrastructure.
Now let's talk about the best fiber patch panels available in the market.
5 Best Fiber Patch Panels
Specification
| Product Name | SpeedyFiberTX – LGX Compatible Fiber Patch Panel |
| --- | --- |
| Fiber Type | Singlemode |
| Adapter Type | Blue Duplex LC |
| Number of Adapters | 6 |
| Total Fiber Ports | 12 |
| Compatibility | LGX Compatible |
| Price | |
Quick Guide
| | |
| --- | --- |
| Installation Application | High-quality steel with Black Color Electrostatic Powder Coating |
| Material | High-Quality Steel with Black Color Electrostatic Powder Coating |
| Installation Feature | Simple-Snap-in Mechanism for Quick Tool-less Installation (no tool required) |
| Price | |
I recently used this LC fiber optic patch panel to bridge a connection between two 62.5/125 multi-mode fiber cables. The part quality and performance met my expectations.
The construction is sturdy, not flimsy at all. The LC connectors locked in properly and aligned well with my existing cabling.
Overall, this is a well-made patch panel. The steel construction feels durable, yet it was easy to install in my 19″ rack. The printed port numbers on the front panel make it simple to identify connections.
I'm using this patch panel to clean up some fiber runs in my rack. It allows me to consolidate connections and organize the cabling better. The performance has been solid so far, with data speeds as expected for 62.5/125 multi-mode fiber.
In summary, this fiber patch panel does exactly what I needed. It bridges two multi-mode fiber cables cleanly and securely. The quality meets or exceeds similar panels I've used.
I would recommend it if you need an easy way to connect and organize LC fiber cables. So far, it has improved the organization and appearance of my rack while maintaining the expected network performance.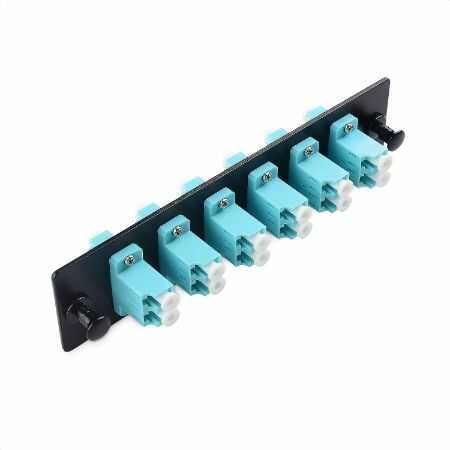 Specification
| Product Name | Cable Matters 12 Fibers OM4/OM3 Multimode Patch Panel |
| --- | --- |
| Fiber Type | OM4/OM3 Multimode |
| Adapter Type | LC UPC Duplex Fiber Optic Adapters |
| Number of Adapters | 6 |
| Total Fiber Ports | 12 |
| Compatibility | LGX Compatible |
| Price | |
Quick Guide
| | |
| --- | --- |
| Description | Upgrade your network infrastructure with this rack mount compatible 6 port patch panel fiber optic. Supports fiber optic networking equipment with LC to LC connectors. |
| Ports | 6 built-in LC plugs |
| Supported Fiber Types | OM1/OM2/OM3/OM4 fiber optic cables |
| Fiber Cable Compatibility | LC to LC cables |
| Dimensions | 5.12 In x 1.24 In x 1.14 In (130mm x 31.6mm x 29.2mm) |
| Rack Compatibility | Supports 1U rack systems and other networking equipment |
| Price | |
I recently installed this fiber optic patch panel to connect new multi-strand fiber cabling between two commercial buildings. I am happy to report it enabled the creation of a robust 10G fiber link across the entire distance with zero issues.
At an affordable price point, this patch panel provided great value to establish a high-speed backbone between structures.
The simple but sturdy design made installation straightforward, while still feeling very durable with no sharp edges. I really appreciate how easy it was to use this panel to simplify the complex task of interconnecting the buildings. The LC connections felt firmly seated and passed light perfectly from end to end.
With the capacity for more fibers than I presently need, I also like how this panel has ample room to support expansion. The excellent design means it can serve a variety of applications well, not just my current 10G link. It would work nicely for higher fiber counts in large enterprise wiring closets and data centers too.
Overall, this is a fantastically designed fiber patch panel that allowed me to cost-effectively bridge a 10G connection between buildings. The construction quality is top-notch, and it is simple to mount and use.
I am impressed with its versatility too. For anyone looking to interconnect fiber cabling across distances, I highly recommend this problem-free solution. It delivers exactly what I needed for a multi-building fiber deployment.
Specification
| Product Name | GESD 24 Duplex 48 Port LC-OS1 Rack Mount Enclosure Kit |
| --- | --- |
| Fiber Type | Singlemode LC-UPC |
| Rack Compatibility | Fits 19″ Racks Cabinet |
| Number of Duplex Ports | 24 |
| Included Components | – 2 Splice Trays |
| | – 48 Strand Pigtail |
| | – 1M Cables Spool |
| | – 24 Core LGX Loaded Patch Panel |
| Price | |
Quick Guide
| | |
| --- | --- |
| Insertion Loss | Lower Insertion Loss with Good Low Back Reflection & High Return Loss. Each insert performance exceeds industry standards. Good temperature stability. |
| Accessories | Complete set of accessories, neatly inserted fiber pigtail cables, and configured optical fiber couplers. |
| Applications | Widely used in Data Centers, premise installations, Optical Fiber LAN, WAN, Telecommunication, Data Processing Networks, CATV, instruments, and Communication Systems. Environmentally stable with strong compatibility. |
| Fiber Terminations and Splices Management | 2Pcs Splice Trays with a removable protective outer jacket for tighter bend radius requirements or high-density installations. Zirconia Ceramic Ferrule for low insertion loss and better durability. |
| Color Mark | 24*2 Color Mark for easy identification and prevention of incorrect patching with color-coded pigtails. |
| Plug and Play | Environmentally Stable with strong compatibility. Conforms to industrial standard 100% optical test to ensure reliability. |
| Price | |
Specification
| Product Name | VFLTOOL 4PCS 6 Duplex LC Adapters LGX Footprint Fiber Patch Panel |
| --- | --- |
| Fiber Type | SingleMode and Multimode (OM1-3) |
| Adapter Type | LC UPC Blue |
| Number of Adapters | 6 (4PCS) |
| Total Fiber Ports | 12 |
| Compatibility | LC UPC Blue is Compatible with Singlemode and Multimode (1.25G/10GB OS1-2/OM1-3) |
| Included Components | Couplers Enclosure |
| Price | |
Quick Guide
| | |
| --- | --- |
| Fiber Ports | 12 Fiber Ports |
| Adapter Type | 6 x Duplex LC Couplers |
| Compatibility | Compatible with various types of optical fiber (Singlemode Multimode |
| Compliance | Complies with IEC 61754-4, IEC 60784-14, and TIA 604-3 standards and conforms to RoHS standards. |
| Performance | High return loss, low insertion loss, and low attenuation. Ceramic inserts provide low loss and high signal integrity. Identified by their blue color. |
| Installation | Plug and Play with a simple-snap-in mechanism for quick tool-less installation (no tools required). Maximizes rack space with LGX footprint. |
| Applications | Widely used for fast Ethernet, Fiber Channel, Gigabit Ethernet speeds, Local Area Networks, Data Centers, Premise installations, Wide Area Networks, Commercial applications, audio, video, SFP data services, and connects to SFP transceivers, Ethernet switches, and media converters. Suitable for education, corporate, military/defense, government, healthcare, finance, and general commercial applications. |
| Price | |
Specification
| Product Name | Monoprice Blank Fiber Patch Panel |
| --- | --- |
| Rack Compatibility | 19 Inch |
| Rack Units (Height) | 1U (1 Rack Unit) |
| Material | 16 Gauge Steel |
| Number of LGX Cassettes | 3 |
| Price | |
Quick Guide
| | |
| --- | --- |
| Rack Compatibility | Fits racks and cabinets with 19-inch mounting widths. Takes up 1 rack mount space (1 RMS). |
| Material | Made from 16 gauge steel with black powder coating for protection against wear, corrosion, impact, and weather. |
| Frame Reinforcement | The top and bottom edges of the frame are folded to reinforce the panel for enhanced strength. |
| Compatibility | Compatible only with LGX fiber optic cassettes. |
| Price | |